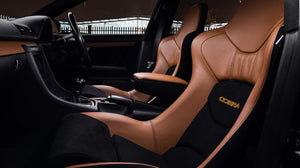 Sports Seats
---
The finest traditions of the British motor industry are built on a reputation for excellence: Excellence in design, engineering, coach building and trim.
Cobra Seats reputation is built on those same qualities - combining tradition with innovation to manufacture seats that will complement and enhance the worlds most prestigious cars.
Cobra's Sports Seat range is designed to be aesthetically pleasing, ergonomically comfortable and to provide the very highest levels of safety.
Cobra's reputation for trim is unsurpassed: Cobra's founder made his name producing seats that were good enough for Stirling Moss, Paul Newman and Steve McQueen and today Cobra's craftsmen still have his keen eye for detail: most materials are still sourced in the UK and are the finest available and the quality of stitching is unsurpassed.
The result is a range of Sports Seats that will stand up to the finest scrutiny and be at home in the worlds most expensive cars.